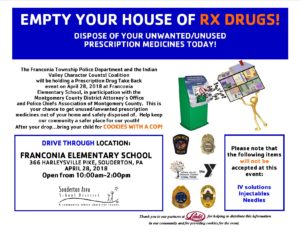 On April 28, 2018 stop by Franconia Elementary School between 10:00am-2:00pm to dispose of your unwanted and unused prescription medicines. Drive through options are available.  Pull up, drop your medications in the box and drive right through.
This year we will be offering an additional stop for you and your child.  Stop by and say hello to one of local Police Officers with our Cookies with a Cop event.   Cookies and lemonade will be available and have been provided by our friends at Landis Supermarket!
Our partners for this event are listed ON the flyer below.  We hope to see you there!
Click this link for detailed information:  GOT DRUGS 2018 FRANCONIA